Bed bugs are great at hiding
Bed bugs do a great job of hiding so closely examine everything in the  room.
——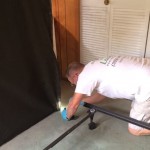 Mattresses and box springs. Look around the mattress seams and undersides of box springs. Note: the muslin wrap on the bottom of the box spring may need to be removed. Seek consent of resident prior to doing so.
—Bedding, including sheets, a comforter and blanket can show evidence.
—Upholstered furniture around seams, edges of cushions and undersides of chairs.
—Wood furniture on the undersides and interiors of chests where drawers slide.
—Bed frames around metal joints and lips.
—Window and door frames
—Cracks and crevices
—Carpet tack strips at the wall
—Baseboards
—Remove and inspect outlet and switch plates.
—Inspect smoke detectors, thermostats
—Drapery pleats or other window coverings
—Loosened wallpaper
—Check ceiling/wall junctions/ceiling molding