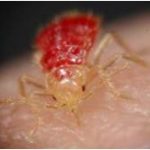 When temperatures drop, many of the bugs that bite or sting us like fleas go into a sort of hibernation mode. So, it makes sense to ask whether or not bed bugs do the same. But the way bugs hibernate isn't the same as the way many animals hibernate. Bugs go into a low-energy state called diapause, just like it sounds, it's a state of  pause in their development.
Bed bugs live almost exclusively inside where temperatures are controlled. If the temperatures in a home feel like spring or summer, bed bugs will have no problem being active. Not only are bed bugs active during the winter months, they spread during the winter months. If you just went somewhere for the holidays, it is possible that you brought bed bugs home with you. Bed bugs spread more when we travel more. And, if you have college-age children, it is possible they could have brought them home during the holidays.
If bed bugs are exposed to temperatures at or below 0℉ for a period of approximately four days, they will die. According to an article from the  Yale School of Public Health, the female bed bugs are even harder than the rest. Female bed bugs have a super cooling point, the temperature at which the bug will freeze, of around -20℃ or -4℉. Though bed bugs can survive at low temperatures, the article also states that development may be halted at temperatures below 50℉, meaning bed bugs may remain as a nymph until the environment is warmer.
Home freezers often do not reach temperatures severe enough to kill bed bugs quickly, so freezing time will probably need to be extended. Additionally, internal temperatures of these freezers may fluctuate, especially with frequent opening and closing. Deep-freezing at temperatures below -30℃ or -22℉ for three to four days is most effective in killing bed bugs.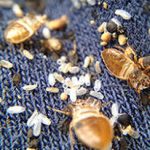 Even if bed bugs do survive cold temperatures, studies have found egg production and hatching success to be reduced. That being the case, cold temperatures are not completely useless when it comes to eradicating a bed bug population.