Residential Pest Control
Residential Pest Management Services
It doesn't matter if you own or rent a house, town home, condo or apartment, The Aardvark's pest management services are custom tailored to your exact need. Our entire staff is comprised of certified pest management technicians who are ready to tackle your residential pest control problems.
Not only are pests an annoyance around your home but they also pose a serious health risk as well. These critters can carry hundreds of diseases which can make your loved ones sick as well as your beloved pets. Additionally, damage to your home and belongings can occur as well, diminishing the wealth you have created for your family. The Aardvark team is specially trained to diagnose the exact problem you are having, ensuring you are not given a cookie-cutter solution that doesn't fully meet your needs.
Integrated Pest Management
Did you know that approximately 90% of all pests originate from outside the home? IPM is the most effective ways to prevent any sort of pest from gaining access into your home. By first assessing your property our team of talented service technician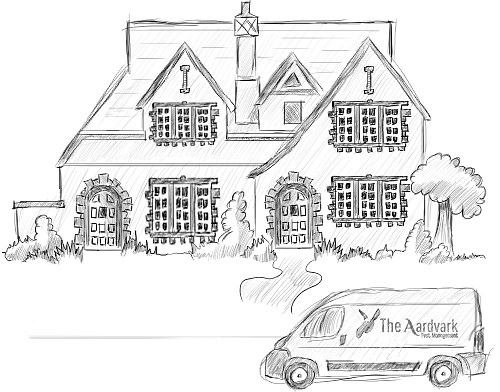 s can create a customized plan to seal your home, preventing access to the pests you are trying to keep out.
No matter how large or small your potential (or existing) pest problem the Aardvark is standing by! We are capable of taking care of just about any sort of pest, ranging from ants, beetles, bugs, wasps, bees, hornets, birds and even small & medium sized mammals! And, don't forget about the bed bugs! Think you might have a problem with those itchy guys? Click Here to find out more about them and how we can help!
Ready to Eliminate Your Pest Problem?
When you're ready, pick up the phone and speak with one of our live Aardvark specialists today! We are standing by and eager to help with whatever pest management need you may have! Remember, the best way to combat these insects and rodents is to be proactive! Don't wait until it is too late, call today!